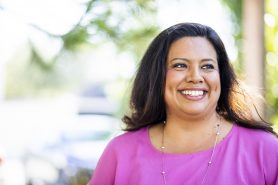 The mental health of all Australians has been a focus throughout the COVID-19 pandemic.
At atWork Australia, we are supporting our NDIS clients through this challenging time by providing psychology services and mental health support.
atWork Australia's team of 12 experienced and qualified psychologists work collaboratively with NDIS participants and their family members/carers to ensure the challenges of the pandemic do not create any obstacles to achieving work and wellbeing goals.
Navigating issues such as anxiety, stress, job loss, relationship difficulties and community engagement is key to empowering our NDIS clients to live the life they choose.
atWork Australia psychologist Cheong Wong explains, "When we have good mental health, it is like a mind with a good immune system. We are more resilient, and able to face many of life's challenges and stressors."
With 14 office locations in Perth, the team at atWork Australia are well positioned to support NDIS clients throughout the Perth metro area. Services areas include Therapy, Counselling and Community Engagement Assistance and can be delivered via face-to-face sessions or through Telehealth phone servicing and video conferencing.
Our psychologists can provide support in languages other than English including Mandarin, Cantonese, Tibetan, Hokkien and Arabic.
In addition to funded therapeutic supports provided by an atWork Australia psychologist, Cheong Wong suggests alternative ways to manage mental health and wellbeing. "Stay connected to friends and loved ones, try to do some gentle exercise if you're able, engage in hobbies, learn something new and work towards a meaningful goal."
We are ready to help and have availability NOW to assist NDIS participants. To enquire or register for support, visit our website www.atworkaustralia.com.au/ndis or call 1300 080 856 to speak with us today.
Further information on managing mental health during COVID-19 has been provided by the NDIS and can be downloaded here: NDIS mental health and well-being