When atWork Australia Job Coach Yousef was twenty years old, he left his family and moved to Australia from Iran.
Having gained some experience as a supervisor at a chain store and running his own juice bar business, Yousef entertained the idea of working in the banks although, his impulsion to help others on a deeper level prevailed and, it was through a friend who was already working at atWork Australia that he was made aware of its potential to fulfill his desire to help others.
To this, Yousef said, "When I help someone and they appreciate it, you feel better and motivated and want to do more. Helping people gives you more confidence and motivation."
It is no surprise that the move from Iran to Australia came with its challenges, however, being able to speak, Farsi, Persian, Kurdish, and Arabic, came with great advantage. He was able to be a casual translator while he studied, IT retail fitness certificates through TAFE as well as Advanced Diploma of Service Management. Yousef had no inclination of slowing down because, it was around this time, when Yousef won the gold medal for under 50 kilos bench-press at the Commonwealth and Oceania Games (pictured below).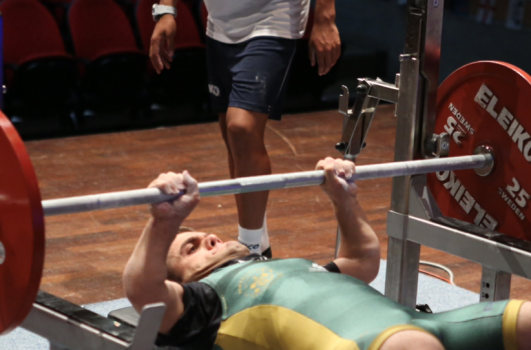 After successfully completing his studies, Yousef was offered the role of Job Coach for atWork Australia's Bankstown office and specialised in working with clients who were considered to be Cultural and Lingually Diverse (CALD).
70% of Yousef's clients will have English as a second language but regardless, he will always have a way to sufficiently communicate, be it through body language, pictures, an on-call interpreter or Google Translate. In fact, one of Yousef's Mandarin client's gained a job at a Chinese restaurant with thanks to the use of Google Translate, a free resource where clients can speak into the program and it will translate what was said.
Some of Yousef's key methods of overcoming some of the challenges of the role have been to show a genuine concern for a client's life issues. He would start from there, gain their trust and then they 'let you in' and the rest is history.
Yousef's biggest achievement in his role as atWork Australia Job Coach has been placing 76 clients into work and education.
Yousef made great strides with his clients, which he puts down to finding joy from seeing their successes and knowing that what you've done has changed a client's life, and by extension, their family's as well.
Some of the common grievances that clients express about the personal challenges to finding work are motivation, reduced self-belief, uncertainty over what they can do especially if they are unable to do what they used to do and that they are unaware of their own capabilities.
To combat this, Yousef maintains good communication with Employer Engagement Consultants, connecting clients with employers and all the while giving them support. In addition, Yousef may accompany clients in the workplace on their first day if they are stressed regardless if the start time is 6am.
Yousef believes that what makes him successful in his job is connecting with clients on a personal level, being honest and friendly, being flexible, exuding empathy, understanding and delivering what is promised.
Get in touch today on 1300 080 856 , or register your interest online, and let's connect you with one of our many passionate Job Coaches who will work tirelessly to get you the right job with the right employer.