Living with disability, injury or health condition (including mental health condition) and about to finish school?
We're here to help
Money, independence and achieving goals are some of the benefits of getting a job when you finish school. We know that sometimes the transition out of school to work can be a challenge, so we're here to make the process easy, seamless and successful.
Through our Disability Employment Services, we can help you on your way to finding the right job for you. We provide a truly individual approach, putting your needs front and centre, so you get the best support and services you deserve, every step of the way.
Who do we help?
We help any person living with a disability, injury or health condition, such as:
• Physical, learning, sensory disability
• Diagnosed medical condition
• Autism spectrum
• Mental health conditions
• Depression, anxiety, bipolar, schizophrenia
• Yet to be diagnosed
You can find out more about eligibility for Disability Employment Services here, or call us on 1300 080 856 for more information.
The benefits of work
Work can bring many benefits, as it helps to improve the welfare of individuals, families and communities. Put simply, people are generally better off when they're working. They can pay their bills, enjoy the freedom of decisions that money can bring, support their loved ones and enjoy the sense of contribution to their community.
We know that it's important to have the best transition you can from school to employment, and we're here to make that happen. Meaningful, or good work is essential to the wellbeing of nearly everyone. Work that satisfies you and fulfils a purpose helps you to:
Learn new skills and gain experience
Connect with new people and your community
Have the freedom to manage your life, your way
Improve your financial situation
Read more about the health benefits of work here.
How can atWork Australia help me transition from school to work?
We provide a holistic service to maximise your strengths and abilities and make a difference in your life, including:

A dedicated Job Coach
You'll get your very own Job Coach providing support to gain a sustainable career. We're your very own personal employment finding team. We're here to help you find and sustain meaningful work that helps you get what you want out of life.

Health and wellbeing coaching
Our own program, Positivum™, proven to make a difference in people's lives

Access to employers looking for you
From our network of employers who are ready to hire

Access to in-house allied health professionals
Focused on building abilities and matching yours to great employment opportunities, should you need them

Support once you start working
We'll continue to support you, in a way that best meets your needs through on the job support, post-placement support or ongoing support
We have many different ways we can help you find your first job after school, a job that suits your dreams and desires and helps you reach your career and life goals.
We helped Griffith, a school leaver from Queensland, get a dream first job in hospitality.
Griffith had an idea of what he wanted to do when he left school, but wasn't sure if his idea would suit his needs as he's on the Autism spectrum. Griffith approached atWork Australia, and through his dedicated Disability Employment Services Job Coach Griffith was able to land his first job. He had a grin from ear-to-ear when he discovered he had the job and would be able to develop his skills as a barista, earn money and experience the benefits that work brings.
His Job Coach Sonya noticed a change in Griffith. "I see a stronger and more confident Griffith learning new skills, and he's already reheating food and serving residents, without supervision," she said.
Read the rest of Griffith's story into meaningful work, or check out other stories about people with disability who have found good work after leaving school.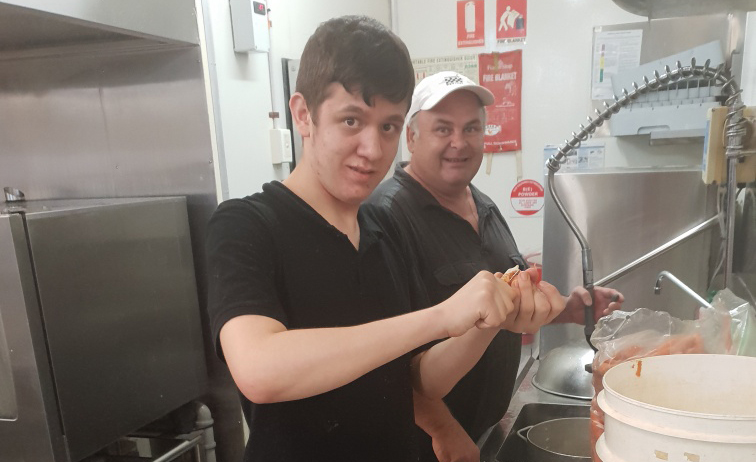 Are you a school leaver wanting to find work? We're here to help! Contact us today to start your journey into meaningful employment. You can call us on 1300 080 856.