PERTH – At a gala dinner at Crown Perth on Saturday 11 May 2019, the finalists and winners of the WA Disability Support Awards were announced, in front of more than 800 people, including the Honourable Kim Beazley AC, Governor of Western Australia and the Honourable Stephen Dawson MLC, Minister for Environment and Disability Services.
Zack Hanbali, Disability Employment Services (DES) Senior Job Coach for atWork Australia in Mirrabooka was announced as a finalist in the Excellence in Improving Employment Opportunities category. This award recognises a person who has made a significant contribution in improving awareness of employment of people with disability and/or have supported people with disability to achieve satisfying and meaningful employment outcomes.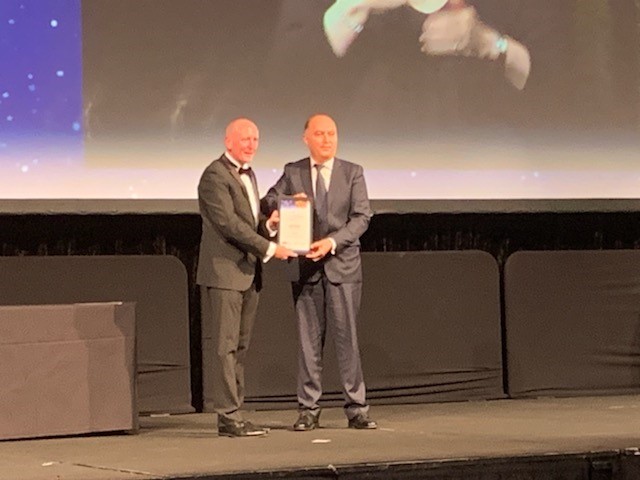 From left to right – Honourable Stephen Dawson MLC, Minister for Environment and Disability Services and Zack Hanbali from atWork Australia
Zack has worked in the employment services industry for numerous years and commenced working for atWork Australia in 2016. Throughout Zack's working career, he has demonstrated excellence and commitment to supporting people with disability. He is particularly passionate about assisting people who have English as a second language and has had a profound impact on the lives of the people he works with.
atWork Australia, being committed to providing quality disability employment services in Western Australia, nominated Zack for his significant contribution to improving employment opportunities, with consistent outstanding results in terms of return to work outcomes, and his practical approach to supporting people with disability find employment.
National Disability Services (NDS), in partnership with the Department of Communities established the WA Disability Support Awards to recognise and reward people who go beyond ordinary standards of service and provide the highest standard of individualised support to people with disability.
Claire Kavanagh, WA DES State Manager of atWork Australia said, "Zack is an integral part of the atWork Australia team and we are so proud that one of our valued team members has been recognised for their dedication working with people with disability."
"Zack has always given 110% in all aspects of his role. His commitment and passion to assist a job seeker with a barrier to employment is exceptional and he is one of the best in the industry I have come across in 13 years," said Claire.
Congratulations to all the 2019 WA Disability Support Awards finalists and winners!