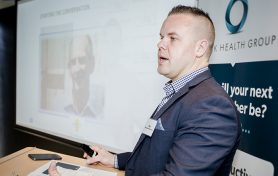 SYDNEY – atWork Australia, part of the Work Health Group, hosted the Liverpool Industry Connections employment forum on September 5th focused on helping local employers in Liverpool find the right staff for their business.
CEO of the Work Health Group, David Sagar, said Work Health Group is proud to support the many new projects, small and large, underway in South West Sydney with a capable and reliable work force that supports Liverpool's local economy.
Mr Sagar said employers risked missing out on a range of benefits to their business if they don't tap into the full local talent pool, which includes valuable potential employees with disability.
"Capable and talented people with disability should never be overlooked as they may be the right person for the job, especially considering wage subsidies and support from DES (Disability Employment Services) available to employers," Mr Sagar said.
The innovative forum connected Liverpool based employers, job-ready candidates, local government and services as well as representatives from local Chambers of Commerce and training providers. In showcasing the Disability Employment Services program, Work Health Group helps businesses in the Liverpool region benefit from employing people with disabilities.
"We want Liverpool area employers to be successful and find the right staff. We help them to tap into the full talent pool, access wage subsidies and Government incentives, and also experience the range of business benefits that come with employing people with disability," Mr Sagar said.
"DES delivers capable staff who are statistically as, if not more, productive, reliable, safe and affordable as other workers and that's music to an employer's ears," he said.
"Employers want to access the right staff, and DES providers enable them to save time and money with pre-screened local staff."
"All this means smart employers must consider people with disability in their recruitment approach. One in five Australians live with disability and so it's likely most businesses already employ people with a visible or invisible disability," Mr Sagar said.
atWork Australia's General Manager Michael Kolomyjec said the forum showcased how DES providers enable employer and jobseeker connections that result in long term jobs and a diverse workforce.
"Traditionally, people with disability may have faced more barriers to employment than other workers but we're seeing a change dictated by the fact more employers understand the right person for the job isn't always who they might have first expected to hire," Mr Kolomyjec said.
Dan Hunt, former NRL player turned Mental Health Awareness advocate, spoke at the forum about how he has overcome personal mental health issues to succeed at work.
The Work Health Group is guided by its mission to optimise work and life participation for people with injury, illness, disability and disadvantage and is proud to deliver services and events such as the forum, that help Australians to build better lives through work.
Gandangara Land Council Board Member Malcolm McColl delivered a 'Welcome to Country' on behalf of the local Indigenous community to open the event.