WA – Leading national Disability Employment Services (DES) provider atWork Australia and local provider, access4work have entered into an agreement to transfer the services provided for access4work Disability Employment Services clients to atWork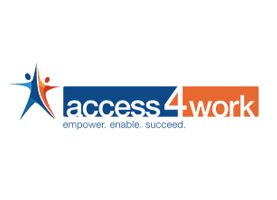 Australia in WA.
A spokesperson for access4work said the provider had been actively looking for the right partner for the transfer of its Disability Employment Services clients.
"We are pleased to have been able to come to this agreement as atWork Australia have the expertise, experience, commitment and coverage to ensure a smooth and successful transition and that access4work DES participants will receive high quality services."
Group Executive – Employment Services for the Work Health Group, Michael Kolomyjec, said the agreement expanded atWork Australia's delivery services in WA, providing more people with disability assistance and support to achieve their employment goals.
"Our dedicated team in WA welcome our newly transferred clients to atWork Australia and we will be providing the same great service they had been receiving from access4work but just from a different atWork Australia office location." Michael said.
This service agreement will be effective as of 12 April 2019. atWork Australia will service the transitioned Disability Employment Services clients from the current atWork Australia locations across metro WA, which are close in proximity to access4work locations allowing for a smooth and convenient transition.