AccessAbility Day was in full swing around the country from Monday 25 November to Friday 29 November this year, in the week leading up to the annual United Nation's International Day of People with Disability, on 3 December.
atWork Australia proudly supported the day, with 36 clients experiencing work with 15 different employers. It was a great week with clients across the country gaining valuable experience with a company or industry they're interested in joining, and employers getting to connect with local candidates, seeing what they can offer their business.
We held many activities and organised many placements across the week, via our 300+ Disability Employment Services offices, below are is Josh's story from participating in AccessAbility Day 2019.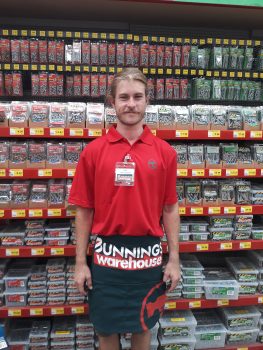 On the Gold Coast in Queensland, Josh was able to experience a whole week of work experience at Bunnings Nerang. 
Josh is a Carpenter by trade, with over 7 years' experience and knowledge. When Josh got injured, he had to stop working as a carpenter due to difficulty with heavy lifting. Since this injury, Josh experience periods of low self-confidence when it came to finding more work. However, during AccessAbility Week, Josh had a fantastic opportunity to work with Bunnings Nerang, with Bunnings offering 5 days of experience.
This week at Bunnings provided Josh the opportunity to demonstrate his experience and knowledge in carpentry and build some motivation, and self-belief that he can find suitable work. Josh was placed in the Trades and Tools section of Bunnings, which was the right place for Josh given his previous experience.
Josh stated he had a great week and was very happy to have been given the opportunity. Josh met some wonderful people, and two have said they would be more than happy to give Josh a great reference when searching for work.
Overall, Josh's week with Bunnings was a great success, with Josh's new experience and increased confidence,  Disability Employment Services Job Coach Dani is looking forward to working closely with Josh to ensure he successfully gains suitable and sustainable employment.
AccessAbility Day is an Australian Government initiative that allows employers to connect with candidates with disability, who are current and active Disability Employment Services (DES) participants looking for work, to see their potential in the workplace. Employers can also explore the concept of employing a person with disability, while providing an opportunity for participants to gain an insight into a particular job or type of work.
We can help you find suitable employment or your next employee! Call us on 1300 080 856 or enquire online today, and let's get started.