AccessAbility Day was in full swing around the country from Monday 26 November to Friday 30 November this year, in the week leading up to the annual United Nation's International Day of People with Disability, on 3 December.
atWork Australia proudly supported the day, with jobseekers across the country gaining valuable experience with a company or industry they're interested in joining, and employers getting to connect with jobseekers, seeing what they could offer their business.
We held many activities and organised many placements across the week, via our 200+ Disability Employment Services offices, below are a few stories from AccessAbility Day 2018.
In Wollongong, NSW an AccessAbility Day event was held at the Wollongong atWork Australia office. Three employers attended and networked with clients, talking about what they expect when interviewing and what makes for a good employee. Twenty jobseekers attended, who also had many questions for the employers. It was an interesting and useful event for all.
Pictured below is Che from Uniting, sharing useful job seeking tips with the audience.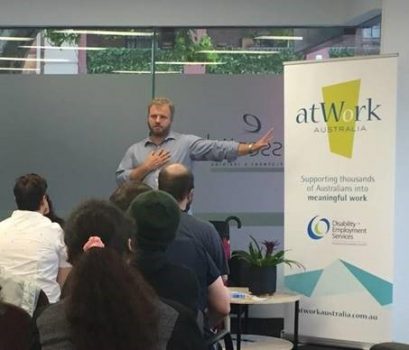 Also in NSW, jobseeker Keanu completed a day of work experience at a local warehouse. His supervisor was very happy with the collaboration and the overall concept of AccessAbility Day.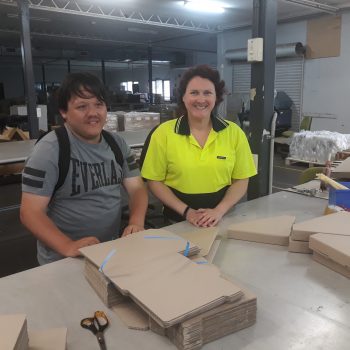 In Queensland, Jessica had come to atWork Australia from another provider. Jessica experiences high levels of anxiety and struggled with confidence. Jessica worked with her Job Coach Jacob, and wanted to gain experience in hospitality, specifically in a cafe. 
Jacob met with Rodney from Café Tahbela, a local café in Oxenford, who were more than happy to have Jessica in for some experience as an AccessAbility Day placement. Jacob checked in on Jessica half way through her placement and she seemed to be fitting in well with the team, assisting in serving customers beverages and setting tables. Rodney said Jessica did very well, and that they were happy to have helped Jessica gain experience in hospitality. Jessica advised that she was very happy and would like to start applying for positions in hospitality now that she feels confident this is what she wants to do. A great outcome, with Jessica discovering the employment path she wants to take.
Jesse, also in Queensland, took part in an AccessAbility Day placement, completing furniture restoration. Jesse was able to work using some of the tools and was able to assist with some of the staining of furniture. Jesse enjoyed his experience and is now rethinking his employment direction, looking to retrain and work in furniture building. Jesse enjoyed working alongside others and being part of a team for the placement. Another successful experience, helping another jobseeker discover the right work for them.
AccessAbility Day is an Australian Government initiative that allows employers to connect with jobseekers with disability, who are current and active Disability Employment Services (DES) participants looking for work, to see their potential in the workplace. Employers can also explore the concept of employing a jobseeker with disability, while providing an opportunity for participants to gain an insight into a particular job or type of work.
We can help you discover the type of work you enjoy year round, and we can help you get there – supporting you every step of the way finding you good, local work. Call us on 1300 080 856 or enquire online today, and lets get started.