At a gala event at Crown Perth on Saturday 28 April 2018, the winners of the WA Disability Support Awards were announced. Claire Kavanagh, Disability Employment Services (DES) WA State Manager for atWork Australia won the Excellence in Leadership category.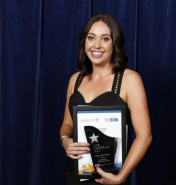 Claire Kavanagh is based at atWork Australia's Mirrabooka office and oversees 30 staff members over 15 sites. She has worked in Disability Services for 12 years in total, and commenced working for atWork Australia in 2013.
atWork Australia nominated Claire for her outstanding results in terms of return to work outcomes, and her hands-on approach to supporting people with disability find employment. Claire has the opinion that everyone should get their chance in the employment world and there needs to be a greater focus on celebrating the abilities of participants and less time focusing on disability. This philosophy permeates throughout the WA team.
National Disability Services (NDS), in partnership with the Department of Communities established the WA Disability Support Awards to recognise and reward people who go beyond ordinary standards of service and provide the highest standard of individualised support to people with disability.
These external accolades also recognise the important role of those workers providing safe, high quality services that support people with disability to live the life they choose. There is also an opportunity to recognise excellence within organisations that are providing leadership or applying innovation to continuously improve supports and create better outcomes.
Michael Kolomyjec, General Manager of atWork Australia said, "We are so proud that one of our valued team members has received an award for their dedication working with people with disability. Claire has the ability to appeal to all walks of life and is genuine in her interest of people's wellbeing and happiness. Her client testimonials are proof of that, as is her impressive team results and star ratings.
"Throughout her entire career, Claire has demonstrated excellence, passion, vision and commitment to supporting people with disability, as well as superior leadership and mentor skills. I am delighted to see her gain this external recognition and affirmation."