PERTH – Last month, atWork Australia was amongst the 70 business, organisations and self-employed volunteers who were award recipients at WA's 12th annual Volunteer Employer Recognition Awards (VERA) for their outstanding support of employees in their emergency volunteer roles. This support enables these employee volunteers to attend emergency incidents and training that may fall within work hours.
atWork Australia was nominated by Tanya Sheppard, who is the Acting Team Leader at the Rockingham office, as well as a volunteer with the State Emergency Services (SES) Armadale Branch. Tanya attended the award ceremony at Beaumond on the Point in East Perth along with the WA Regional Manager and Business Manager from atWork Australia to receive the award. atWork Australia was the only business from Rockingham to receive this accolade.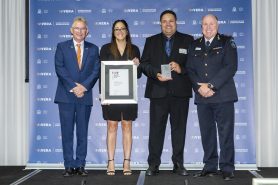 Tanya said that 2020 had been a busy year where she had been involved in searching for missing persons in bushland, as well as assisting with storm damage as part of her SES role. At the height of COVID-19 restrictions, she was working together with the WA Police with road closures.
"It was my pleasure to nominate atWork Australia as they have been so supportive in allowing me to assist the WA community in my volunteer SES during my three years of working for them. No other employer of mine has ever allowed me this flexibility and support, and I am so excited they were award recipients".
VERA recipients support volunteers from the State Emergency Service, Volunteer Fire and Rescue Service, Volunteer Fire and Emergency Services, Bush Fire Service, Marine Rescue WA and the State Wide Operations Responses Division.
Emergency Services Minister Francis Logan MLA who was represented at the ceremony by Pierre Yang MLC, said that "these employers have led by example and continue to support those who keep our communities safe in the most difficult circumstances. The VERA provide us with an important opportunity to thank employers for releasing employees to attend incidents and training, which may mean they need to close their business or reschedule jobs.
Without support from their employers, our volunteers would struggle to attend emergency incidents and protect their communities. On behalf of the State Government and communities throughout WA, I would like to thank the award winners for their valuable contribution and encourage other employers to consider offering similar supports for emergency services volunteers." Fire and Emergency Services Commissioner Darren Klemm also attended the ceremony. For a full list of the VERA winners please visit https://www.dfes.wa.gov.au/newsandmedia/awards/Pages/verpawards.aspx.
Michael Kolomyjec, Executive Manager of atWork Australia said "we are so proud to receive this award in recognition of our support of one of our employees, however Tanya should be the one receiving external accolades as she is the one who volunteers her time to perform such a vital role in the community".