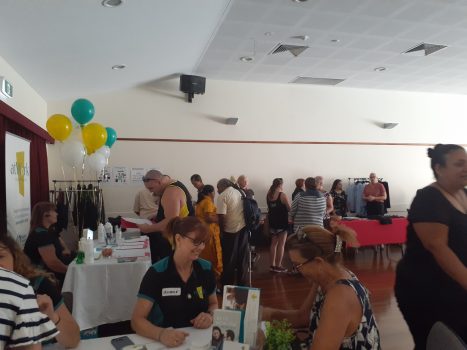 On the 25th February, a local Perth community hall was transformed into a buzzing Jobs Fair! atWork Australia's Gosnell office held their very first Jobs Fair,  a free one-day event for people living with disability, illness, injury or mental health condition who are looking for work, and employers looking for great talent.
The WA Disability Employment Services team commenced the Jobs Fair series as a way of supporting all DES clients to become job-ready and help motivate them on their journey to employment.
David Goode, the Mayor of Gosnells was in attendance to officially open the event and speak about employment opportunities in the Gosnells community.
Mardi, an atWork Australia Disability Employment Services Job Coach, one of the main organisers of the Job Fair said, "It was a fantastic day for all stallholders and clients to meet and greet in preparation for progress towards employment."
atWork Australia were fortunate to have many local community organisations donate their time and services. Thank you to Lil's Hair Salon, Face to Face Education, Online Education, Wungening Armadale Hub, Centacare, Dress For Success Perth and Lowes Back to Work for supporting our Gosnell's Job Fair and helping to make it a great success.
With various local employers, community stallholders, complimentary haircuts, shaves and manicures and free corporate clothing provided, everyone who attended left the atWork Australia Jobs Fair looking ready for the workforce and equipped with all the knowledge they will need to find the right job for them.
Get in touch today to see where your closest atWork Australia office is, and to find out how we can help you prepare to find the right job with the right employer, just like our Jobs Fair guests have.