Our Disability Employment Services (DES) Ambassador Shaun Pianta featured as a key speaker at the recent atWork Australia hosted events held across Hobart and Launceston in Tasmania, sharing his personal story of courage, persistence and the power of good work.
Tasmania – Shaun Pianta, Paralympian and Disability Employment Services Ambassador has been travelling Australia sharing his story of overcoming challenges to find meaningful work. Last week he travelled through Hobart and Launceston, Tasmania, sharing his story of courage, persistence and the power of good work.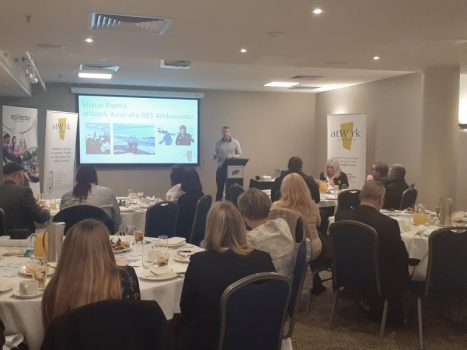 While holidaying in Bali at the age of 19, Shaun contracted a rare virus and lost 90% of his vision. Unable to continue work as a Boilermaker, he was faced with the challenge of reassessing what he wanted to achieve in both work and life. A recreational snowboarder before losing his sight, Shaun discovered the highs of Para-alpine skiing and became a member of the Australian Paralympic team for four years.
Ready for a career change, Shaun selected atWork Australia as his Disability Employment Services (DES) provider. atWork Australia were so impressed with his story and motivation, they offered him a job as a DES Ambassador. In this role, Shaun travels Australia sharing the benefits of disability employment with jobseekers, employers, community organisations and the like. Shaun's work helps educate and inspire people about Disability Employment Services, having experienced himself, firsthand, how DES can change people's lives.
Over two full days Shaun shared his story with various local jobseekers, community organisations, and employers looking to access the full talent pool. Shaun connected with the local communities, spreading the word of Disability Employment Services and how it can help people living with disability, mental health condition, illness or injury find good, lasting work, just like Shaun has. We thank all who attended or supported Shaun's speaker series in Hobart and Launceston, Tasmania.
Disability Employment Services are here to help Australians living with disability, illness or injury find good, lasting employment, employment that can change their lives. To find out more about atWork Australia's Disability Employment Services or to hear when Shaun Pianta may next be visiting your local community for the chance to hear his story, please call 1300 080 856 today.