PERTH – One of Australia's leading employment providers, atWork Australia, are delighted to be exclusively appointed by the Department of Jobs and Small Business to be part of a new initiative to help young Australians into work.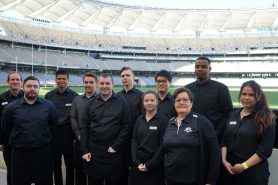 As an extension of the Youth Prepare, Trail and Hire (PaTH) approach, the new pilot initiative – Stadium Youth (STAY) Program has been established, with atWork Australia collaborating with employer VenuesLive and training provider, Skill Hire to train and prepare participants to commence the Youth PaTH internship at the premium event destination, Optus Stadium in Perth.
Youth jobseekers will have the opportunity through this pilot program to complete a three-week Employability Skills Training (EST) program under the direction of Skill Hire to gain a comprehensive introduction into working in the hospitality industry. With weekly visits to Optus Stadium, the program allows the participants to think critically and problem solve throughout a series of real world tasks.
Since the initiation of the program in May 2018, atWork Australia has supported 19 youth jobseekers to commence in the first two intakes, with all STAY participants completing the EST and being offered the three-month Youth PaTH internship with VenuesLive.
"The STAY program is a wonderful initiative that supports and guides young jobseekers to gain relevant hospitality work skills and experience with the prospect of future employment opportunities," said atWork Australia General Manager, Michael Kolomyjec.
With the first intake scheduled to complete their internships by the end of August 2018, the future is looking bright for these young jobseekers who are looking to make a change to their lives by securing meaningful and sustainable employment.