atWork Australia is expanding its Townsville services due to the growing demand to connect more businesses with people living with a disability, injury, or health condition, looking for work.  The demand for work is significant, with over 450 people in Townsville and 4,400 in Queensland gaining atWork Australia's support this past year.
The services will help members of the community become job-ready and find suitable employment opportunities while helping employers access a diverse and broad talent pool of people ready for work. atWork Australia takes an individual approach to understanding the training, life and employment goals of candidates to match employers with jobs.
Jo, North Queensland Regional Manager from Biniris, hired atWork Australia's client, Terry, and has found them to be a valuable member of the team. "Terry takes on feedback well and assists with all the jobs he can. He is a highly valued member of the team, and I would love to have another Terry in a heartbeat," said Jo.
Member for Thuringowa, Aaron Harper, opened the relocated atWork Australia office in Rasmussen on Tuesday, 12 April.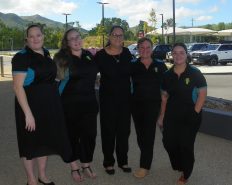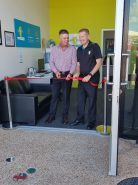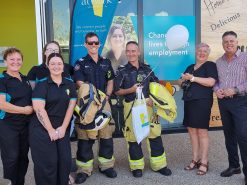 atWork Australia's Rasmussen centre moved from the local community centre to an office in the Riverway Plaza and hosted a launch event with the Member for Thuringowa, Aaron Harper, in attendance on 12th April.
Mr Harper said it was great to see the services of an important organisation grow in Rasmussen.
"atWork Australia helps people who face challenges finding work with the process of securing a job through a tailored individual approach," Mr Harper said.
"They've been operating successfully in Townsville for four years so it's great to have an office in the Upper Ross."
Member for Townsville Scott Stewart supports the opening of additional offices in Townsville. The next opening will be Belgian Gardens in South Townsville on Tuesday, May 3.
"In the last 12 months, atWork Australia has facilitated over 210 job placements in Townsville, so this is an organisation that knows what they're doing and they do it well," Mr Stewart said.
"Having a new atWork Australia office in Belgian Gardens means breaking down even more barriers for job seekers in our community and getting more locals into work."
atWork Australia's General Manager, DES Operations Steven Steel, said local businesses and clients will be invited to network and celebrate the opening of the offices "We are very excited to be opening two new offices in the Townsville area to connect local businesses and people, so both can thrive through employment opportunities."
"Businesses can play an important role in creating an equal and inclusive workplace; and reap significant benefits from hiring people living with disability," he said. "Inclusive workplaces are likely to be more engaged, motivated and productive, and employees will stay with a diverse business for longer. The Australian Network on Disability says that a workforce which reflects the diversity of the wider community is also likely to lead to greater customer loyalty and satisfaction across industries."
"We are very thankful for community support; and are looking forward to welcoming everyone to our new offices.  We collaborate with people to identify their goals, build skills, and support them through the recruitment process right into sustainable employment," said Mr Steel.
Townsville client, Steven was recently placed into sustainable employment, he says "I am so thankful for the support atWork Australia has given me. They have looked out for me during my journey to employment. My new employer is amazing and very understanding and accepting."
"Celebrations will include a smoking ceremony to cleanse and ward off bad spirits to make a pathway for a bright future, along with a morning tea and short speeches on how important these centres are for the community," said Mr Steel.
Read more about how Terry's is thriving after atWork Australia helped him land a cleaning role at Biniris, by visiting this article written by Leighton Smith on 21st April 2022: https://www.goldcoastbulletin.com.au/subscribe/news/1/?sourceCode=GCWEB_WRE170_a&dest=https%3A%2F%2Fwww.goldcoastbulletin.com.au%2Fnews%2Fterry-collins-encourages-people-living-with-disabilities-to-join-the-workforce%2Fnews-story%2F4469817acaf059160bb104cf807cb037&memtype=anonymous&mode=premium