atWork Australia has been helping people with disability, mental health conditions, illness or injury find and keep jobs since 2003. On the 12th of March, atWork Australia held a launch event to celebrate the new location in Warnbro, Western Australia.
To mark the special occasion, the new Warnbro office was officially opened by Mayor Barry Sammels from the City of Rockingham. atWork Australia team members from state-wide were in attendance including atWork Australia's DES Ambassador Shaun Pianta, all coming together to support the grand opening of the Warnbro office.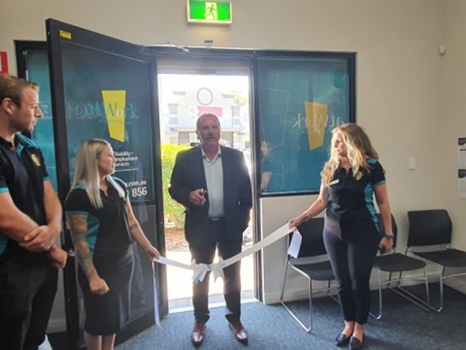 Local community organisations and businesses were also in attendance, including Alffie, Insight Training, Warnbro Community High School (Education Support Centre), South Coastal Health and Community Centre, Dress for Success, Mosaic and Invisible Illness Inc
Thank you to the great turn out of local community organisations and businesses and atWork Australia staff, the DES clients looking for work that attended were able to discuss future opportunities to help make Warnbro a more inclusive place for great work and life opportunities.
Stacey Henry, Service Manager for atWork Australia Warnbro office said it was a great opening event and she looks forward to helping local Warnbro residents find meaningful and sustainable work.
"We wish to see the lives of local Warnbro residents improve through assistance to gain employment," –Stacey Henry.