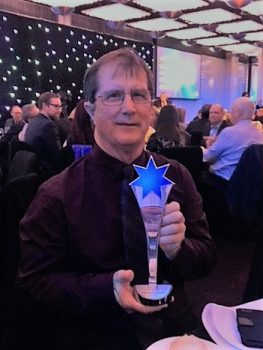 PERTH – 62-year-old Rob Beattie, a Vocational Training and Employment Centre (VTEC) Coordinator from atWork Australia, was announced as the winner of the Excellence in Indigenous Employment Award at the annual 2017 National Employment Services Association (NESA) Awards for Excellence, held at Pullman Melbourne on the Park last night. 
One of Australia's leading employment services providers, atWork Australia has a long history of success at the awards. This year, atWork Australia had finalists in four of the five awards on offer, namely Achiever of the Year; Champion Employer; Innovation in Disability Employment Team Award and, of course, the Excellence in Indigenous Employment award won by Rob.
atWork Australia successfully nominated the Champion Employer of the Year at last year's awards and it has been previous category winners or finalists for the past five years in these prestigious employment awards.
The 2017 national Award for Excellence is in recognition of Rob's exceptional service to the local Indigenous community and for his outstanding performance and achievement within the employment services sector. The strength of Rob's experience, passion and willingness to go the extra mile for his jobseekers shines through and is reflective in the outstanding VTEC retention rate.
Michael Kolomyjec, General Manager of atWork Australia said: "atWork Australia is so proud that one of our valued team members has received an award for his dedication and commitment to supporting Indigenous jobseekers.  Rob has such a large knowledge base of the hurdles and barriers these jobseekers face, and he accompanies them every step of the way during the job seeking and employment journey.
"Rob has been working with atWork Australia since 2013 based at our Cannington office, where his good-nature and tireless work ethic has won him great respect and admiration amongst those he has helped.
"Rob has a deep understanding and utmost respect for the Aboriginal culture and community and this is reflected in the successful partnerships with Indigenous organisations and employers.   As an ex-serviceman, Rob is passionate about health and fitness and has personally driven a fitness program and healthy eating plan for his indigenous jobseekers, with outstanding results."
Rob Beattie said: "I am surprised to receive an award for just doing my job.  It is a great feeling though to be recognised for the extra things I do for my jobseekers.  I am very fortunate that atWork Australia gives me the freedom and management support to continue to assist Indigenous workers.
"I am also supported by a lot of people behind the scenes that make the job seeking process as smooth as possible.  I am always flattered when I receive phone calls from relatives or friends of jobseekers that I have assisted in the past, asking for my help.  This is partly because I have continued relationships with my jobseekers and employers, and I will always be there as a resource for them."
NESA CEO Sally Sinclair praised the 2017 Excellence in Indigenous Employment winner, saying "Rob Beattie is the kind of employment services practitioner who makes a positive and lasting impact on people's lives and well-being.
"Although there are thousands like him working tirelessly across the country to improve opportunity for all through employment and inclusion, Rob's particular devotion and outstanding successes are examples to us all."
---
About NESA and the Awards for Excellence
NESA is Australia's peak body for the employment services sector, and the bridge between the federal government and the employment services industry.
The NESA awards are now in their 13th year, and are recognition of the strength and resilience that it takes to overcome hurdles to gain employment, and the persistent hard work of the employment consultants and employers who support jobseekers on their journey.