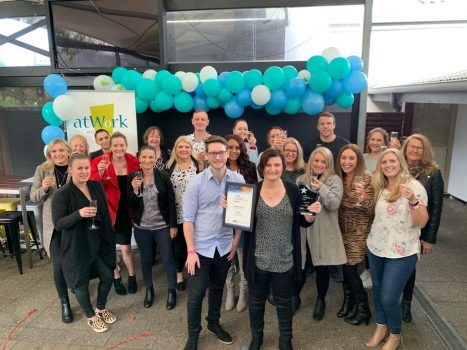 With the challenges currently faced this year, due to the COVID-19 pandemic, the National Disability Services have instead virtually announced the WA Disability Support Awards, in lieu of the annual Gala dinner. The award finalists and winners were announced on the Disability Support Awards Facebook page from the 22nd to the 28th of June.
National Disability Services (NDS), in partnership with the Department of Communities, established the WA Disability Support Awards to recognise and reward people who go beyond ordinary standards of service and provide the highest standard of individualised support to increase the quality of life and inclusion of people with disability in Western Australia.
The final category 'Excellence in Leadership' was announced on Sunday, 28th June. Robyn Frost, Disability Employment Services (DES) WA Regional Manager for atWork Australia's Dale and South West region won this outstanding award.
Robyn Frost is based at atWork Australia's Bunbury office and oversees 13 staff members over 10 sites across two regional areas. She has worked in Disability Employment Services for 10 years in total and commenced working for atWork Australia in 2016.
atWork Australia nominated Robyn for her strong leadership and hands-on approach in building her team from the ground up. Robyn's genuine commitment and encouragement has guided her team's success in the South West, where they have excelled with placing hundreds of people with disability into sustainable work. Robyn's dedication in forming strong relationships with clients, employers and community organisations within WA's Dale and South West regions speaks volumes. Robyn and her team of Job Coaches champion people with disability, helping them gain equal access to the jobs available in the local area.
Robyn comments on her award, "Being a leader has taught me a lot about myself and what motivates me. I do it because I am passionate about changing the lives of others and watching my team grow and succeed."
Claire Kavanagh, DES WA State Manager of atWork Australia said, "We are so proud that one of our valued team members has received this award for their drive and passion working with people with disability. Robyn's strong regional knowledge and connections has supported her team to match people with disability, injury or health condition looking for work with employers, across the vast Dale and South West regions of Western Australia.
Throughout her career, Robyn has demonstrated excellence, integrity and strong work ethic to supporting people with disability, as well as great leadership and mentorship. I am delighted to see her gain this external recognition and affirmation."
For more information on atWork Australia's Disability Employment Services, and how we support people with disability find work, and employers to get the right people into the right jobs, please click here.