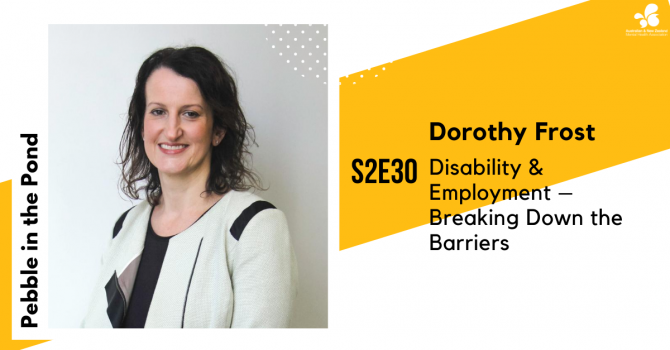 S2:E30 | Dorothy Frost: Disability & Employment – Breaking Down the Barriers
There are 2.1 million Australians of working age with disability. Of these, just under half are employed. In order to boost these statistics, programs that educate and empower both employees and employers are essential.
To help people with disability to cultivate a positive mindset and to improve their outlook on life, atWork Australia has partnered with Monash University to develop Positivum, an evidence-based assessment and health coaching program. By helping to understand thoughts, beliefs and behaviours, the Positivum Program aims to empower individuals with disability to take charge of their mindset to increase their chances of getting employment. Heading up this project is Dorothy Frost, Manager of Research and Innovation at MedHealth.
Well regarded as a visionary, practical and engaging leader, Dorothy works across varied sectors including workers compensation, disability employment, and life insurance to continually refine and improve how vulnerable individuals can be supported to sustain work.
Dorothy featured in the Pebble in the Pond podcast by the Australian and New Zealand Mental Health Association. In the episode titled 'Disability & Employment – Breaking Down the Barriers', Dorothy spoke about the Positivum Program and how it helps clients improve their mental health and embrace a positive employment mindset.
Listen to the full episode here.
Interested to know more about atWork Australia including who we support and how we provide practical and holistic support via our Disability Employment Services? Call us on 1300 080 856 or click here.