atwork Australia has been working together with not-for-profit organization Dress for Success to positively affect their job seekers' confidence and job readiness, with great results.
Dress for Success Perth is based in Subiaco and is part of a global network. It empowers women to obtain economic independence by providing them with work-appropriate attire, job support mentoring, access to career development workshops and a supportive network to enable them to move forward and achieve self-sufficiency through gainful employment.
Both atWork Australia programs of jobactive (JA) and Disability Employment Services (DES) have collaborated with Dress for Success in 2020, and more joint initiatives are planned this year including regional site visits and job expos exhibits.
Dress for Success source the clothing, shoes, accessories and makeup, as well as provide professional development workshops on relevant topics for job seekers such as resilience, mindfulness and self-care. All their clothing items are donated, and they utilise an army of volunteers to process, sort, present and style the work attire. Additional funding is sourced from the Employment Fund as well as grants to support the organisation's 3 part-time employees.
Riann Thorp, Branch Manager from atWork Australia's JA Clarkson and Joondalup offices contacted Dress for Success early in 2020 to determine if they could arrange for them to visit the atWork offices to see several job seekers at once, rather than the women travelling to Subiaco. This was easily arranged, and 10 job seekers were seen by this mobile unit which was manned by 4 volunteers from Dress for Success.
Due to COVID-19 restrictions, the Dress for Success mobile unit visits were placed on hold until the second half of the year. Since that time these visits have been a hit for both atWork Australia staff and job seekers.
'The majority of the job seekers that we identify through our case reviews to take part in the Dress for Success mobile visits are not job ready. They may have been out of the workforce for a long period of time, have young children, had recent changes to their living and marital status or have anxiety associated with job interviews and job seeking. Once they attend the Dress for Success sessions, the transformation in our job seeker's confidence, as well as their external appearance is phenomenal.
If a job seeker is unable to attend the session, a collection of work attire is left for them and they are encouraged to travel to Subiaco to complete their transformation', Riann said. 'I encourage other atWork Australia offices to make use of this support service for their job seekers as it really does make a difference'.
To find out more about Dress for Success, please visit their website.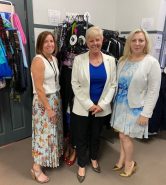 Picture of Karen Woodcock, Business Development Manager from Dress for Success with atWork Australia's Heather Hill (L) and Riann Thorp (R).