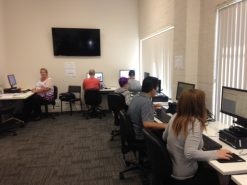 PERTH – atWork Australia, one of Australia's leading employment services providers, is pleased to announce that through our establishment and delivery of successful Work for the Dole activities, our Host, North Midlands Project, has been named as one of three finalists in the community organisation category of the 2018 Western Australian Heritage Awards.
The North Midlands Project has run many Work for the Dole projects that have transformed heritage material to make it more accessible, searchable and useful. The outcomes of these projects have helped culturally enrich the community by providing new and interesting information about the history of Western Australia, its people and development.
Andrew Bowman-Bright, President of North Midlands Project expressed his great appreciation of the Work for the Dole program and thanked atWork Australia for their involvement and support.
"We're a finalist for a few reasons but one of the main ones is for our transforming heritage material, largely through the Work for the Dole activity organised by the atWork team."
Some examples of the significant work contributed by the Work for the Dole participants is the transcription and logging of historical data relating to Early WA Motor Vehicle Registrations; People in the Colony of Western Australia; WA State School Teachers and WA Livestock Brands. This recognition is a great commendation of the value to the local community.
Melissa, Work for the Dole participant on an existing activity with North Midlands Project said, "This activity has given me computer skills that otherwise I would not have. It has also inserted structure in my week and has inspired me to find work. I hand out resumes on my way back home. I really enjoy this activity and the interaction with fellow participants."
atWork Australia's General Manager, Michael Kolomyjec said: "Work for the Dole activities such as the North Midland Projects provide fantastic opportunities for our jobactive clients, helping them to gain invaluable work experience and develop new skills as well as support community goals."
The Western Australian Heritage Awards winners will be announced mid-March.