Five job seekers from atWork Australia have just graduated from the five-week training program Link2Opportunity (L2O) facilitated by the Juna Foundation on behalf of Linkforce – an integrated maintenance services group, and they are ready for their first FIFO swing of mine site shut down work.  These job seekers were amongst the seven graduates who attended the graduation ceremony at Linkforce last Thursday, along with their families and staff from Linkforce and Juna Foundation.
Juna Foundation in conjunction with Workforce Training Centre (Registered Training Organisation) (RTO) offer this unique training program resulting in actual paid employment.  The L2O is presented over five weeks which start as soft skills and move towards specific tasks and skills required on mine sites.  Upon graduation these job seekers are work ready as mine site Trades Assistants.
The participants also receive five job tickets during the training: white card, working in a confined space, working at heights, gas and fire , and forklift operation.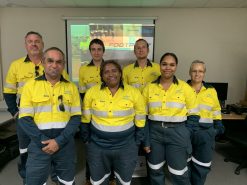 atWork Australia encourages suitable job seekers to attend an information session run by Linkforce, which provides them with a real idea of what is required by the employers and what is involved working as a FIFO mine site worker.
The five job seekers from atWork Australia job active offices in Mirrabooka, Cannington (x2), Armadale and Mandurah were all long term unemployed, were a variety of ages and had different backgrounds and barriers to overcome.
Angela Lee McColley Indigenous Employment Consultant from atWork Australia is especially proud of the graduates, saying "I am so proud of the job seekers as they all had overcome a number of hurdles to attend and then graduate from the training course.  It is exciting to think that next week, these five job seekers will be at work." 
Sheree Phillips-Graham CEO from the not-for-profit organisation Juna Foundation who presented the graduates with their certificates, noted that they run 12 L2O courses a year and the course continued to grow in popularity.  Juna Foundation was also very proud of their 96% retention rate of graduates since starting the program two years ago.
The next L2O Program is due to commence on 18 April 2021.  For more information about the L2O Program, please visit www.juna.org.au.
To find out more about the atWork Australia's Indigenous Employment Services and similar training courses for indigenous job seekers that atWork Australia facilitate, please visit www.atworkaustralia.com.au/employing-indigenous-australians