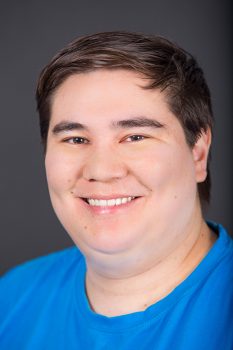 When James Hartley heard he had found a job he didn't celebrate the traditional way. After the Ryde atWork Australia office phoned James with a job offer, one that matched his multiple health conditions, he knew there was only one thing to do.
"I just got to work, cleaned the entire office, and thought I can celebrate by getting the job done," said the 30-year-old Meadowbank resident who has been employed as a casual cleaner for more than six months.
"SKG Cleaning offered me job stability with a flexible schedule so I can keep my condition under control," said James who received uniform and equipment subsidies before he started. atWork Australia met with the employer and made arrangements to help them better understand James. "atWork Australia answered concerns about my ability, gave me confidence to seek help and confirmed my capability to get the job done," he said.
James contacted atWork Australia in August 2015, started work in March 2016, and says he enjoys an ongoing sense of accomplishment and support. Prior to contacting atWork Australia, James tried to find similar roles but his physical and mental disabilities, anxiety and a slipped disc stopped any progress. "atWork Australia spent time to find jobs suited to my interests and my qualifications," he said. "They helped me get my foot in the door."
James has received advice from atWork Australia about pain, motivation and the number of job opportunities he was exposed to surprised him. "Before atWork Australia I used personal contacts, and shopping centre noticeboards to find work, but I needed experts to find the right opportunity for me," he said.
James receives a disability support pension, has negotiated flexible work hours to suit his health, and does plan to celebrate his new job… if and when he finds time. Being back in the workforce has reignited James' passion to act and direct, something he plans to extend his qualifications and experience.
atWork Australia work tirelessly to assist our clients in overcoming their barriers to finding meaningful and sustainable employment. Call us on 1300 080 856 or enquire online today to see how we can help you.