Senator the Hon. Michaela Cash, recently joined six atWork Australia jobseekers as they graduated from a four-week intense job traineeship at a special event at Kuditj in Perth.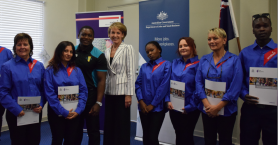 Representatives from Sodexo and South Metropolitan TAFE who presented the training, jobactive provider atWork Australia, as well as the graduate's proud families, attended the graduation ceremony.
When presenting certificates to the graduates, Minister Cash congratulated them on the skills they now have to help make the most of every opportunity. Minister Cash also thanked Sodexo, TAFE and atWork Australia for ensuring that people who wanted to work but had not been able to find work, were now given that opportunity.
atWork Australia's Account Manager Kalusha Chulu organised for the jobseekers to participate in the traineeship and was excited to watch them enter the next phase of their employment journey.
"These candidates genuinely showed interest in getting back into employment. They were willing to put in the effort and were patient enough to see the big picture for their future careers. There is nothing more fulfilling than seeing all their hard work pay off."
Two of the graduates spoke highly of their training and future:
"I am very grateful for all the help atWork Australia has provided. I am going to utilise this opportunity and aspire to become a manager at Sodexo in the near future," said Bojo Towe.
"I have been trying to get into the mines for years and I'm so happy that it's come to fruition thanks to atWork Australia. I am very excited and looking forward to starting this role," said Naomi Bail.
The four-week training program is a partnership between Sodexo, TAFE and atWork Australia which offers individual training and support for Indigenous Australians to prepare them for various roles on Sodexo's remote WA sites. Sodexo was one of the first employers to implement a specific training program that would give jobseekers a formal qualification as well as guarantee them employment upon successful completion of the course.
About atWork Australia
atWork Australia is a leading employment services provider working with Australians across the nation. We empower jobseekers, supporting them to build better working lives.
Part of the Work Health Group, we deliver services under the Disability Employment Services, jobactive, Vocational Training and Employment Centre and Career Pathway Pilot for Humanitarian Entrants programs, helping more than 7,000 people into meaningful work since 2003.