On Wednesday 20th September, atWork Australia celebrated the 2023 NSW Employer Awards at Sydney Olympic Park with some of our amazing employer partners from across the state!
It was a high-spirited afternoon where we celebrated with likeminded individuals and businesses who are actively promoting diversity and inclusion in their workplaces. The awards recognise employers who are making a difference to create a more equitable society by recruiting team members who are living with disability, injury, health condition and those who require additional support to find work.
Our winners for 2023 are:
Excellence in Indigenous Employment Opportunities 
The Award of Excellence in Indigenous Employment Opportunities showcases exceptional effort, achievement, innovation and progress in creating opportunity for Indigenous Australians through inclusion and employment.
Skilled Rail Services
Over the past 12 months Skilled Rail Services have created numerous Traineeships for our indigenous cohort within the Rail Sector in Western Sydney, these traineeships have addressed major skill gaps in the local labour market and created meaningful and ongoing employment opportunities for our indigenous clients. Skilled Rail have provided supportive mentors to ensure that our clients are safe, valued and given the opportunity to build a sustainable career within the rail industry.
Congratulations to our finalist, Bupa.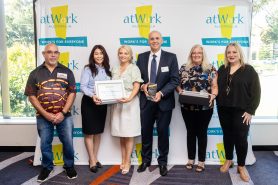 Excellence in Creating Diverse Opportunities
The Excellence in Creating Diverse Opportunities Award Honours an Employer that is striving for a workforce that is reflective of the community we serve, that embraces the individual skills, perspectives and experiences that all types of employees bring to the workplace.
Amazon
Amazon has been recognised as "The best workplace to support PWD" – An inclusive workplace values all employees for their strengths. It offers employees with disabilities — whether visible or invisible — an equal opportunity to succeed, to advance and to feel belonging. Amazon have a committed workforce staffing operations PWD Team with the aim to increase roles for people with a disability into their business.
Congratulations to our finalists, Catholic Healthcare and Arabian Lebanese Restaurant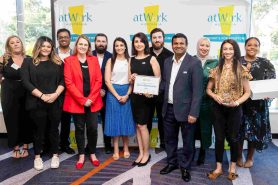 Regional Employer Award
The Regional Employer award recognises a business who operates outside of metro areas, providing opportunities to enable our clients thrive and equally sustain a career pathways.
Hong Kong Chef
Hong Kong Chef are a long-time employer partner across the Hunter, Central Coast and Wollongong regions. Hong Kong Chef are a very open and inclusive business who is open to supporting clients from various backgrounds. Hong Kong Chef are always open to working with and supporting any clients who are looking to get into the Hospitality space and have played a vital role in creating meaningful employment for our clients regardless of their experience, skills or background.
Congratulations to our finalists, Elite Star Services and Traffic Professionals.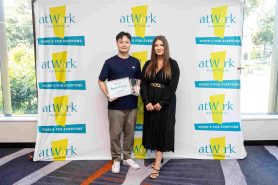 Emerging Employer Award 
The Emerging Employer Award recognises a first year Employer Partnership that has successfully assisted clients living with a barrier into long term employment throughout this year.
Lyka Pet Foods Pty Ltd
Lyka Pet Food are a new Employer Partner that we have recently started with. Since the commencement of this relationship Lyka Pet Food have been a very open and inclusive employer. Lyka Pet Food removes a lot of barriers that are traditionally seen in the industry that they operate which allows for our clients to work and achieve success. Lyka Pet Food has shown already that they will be a valued employer partner across Sydney moving forward.
Congratulations to our finalists, Nowra Chemicals and Lakebridge Mushrooms.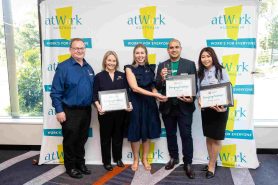 Champion Employer
The Champion Employer Award recognises employers who demonstrate excellence and high achievement in providing employment opportunities to Australians living with a Disability, Injury, health condition or disadvantage.
Aussie Gardening & Cleaning
Aussie Gardening & Cleaning have supported 26 atWork clients into sustainable employment since the beginning of 2023. Aussie Gardening & Cleaning pride themselves in creating and welcoming environment for our clients and give clients a go that are often overlooked elsewhere. Aussie Gardening & Cleaning support clients from all walks of life and go above and beyond to create an inclusive environment that allows our clients to thrive.
Congratulations to our finalists, Houseproud Cleaning and Woolworths.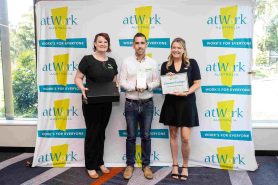 Special thanks to Accor who supplied our lucky door prize. Accor have been working in close partnership with us to support build a diverse and inclusive workforce.
Congratulations to all our winners and finalists for 2023!