Our Disability Employment Services (DES) Ambassador Shaun Pianta spreads the word about DES across Victoria, sharing his personal story of courage, persistence and the power of good work.
Victoria – Shaun Pianta, Paralympian and Disability Employment Services Ambassador has been travelling Australia sharing his personal story of overcoming challenges to find meaningful work. Last week he travelled through Geelong, Frankston on the Mornington Peninsula and Mooroopna, Victoria, sharing his story of courage, persistence and the power of good work.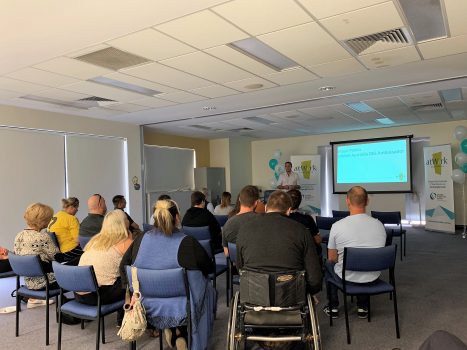 While holidaying in Bali at the age of 19, Shaun contracted a rare virus and lost 90% of his vision. Unable to continue work as a Boilermaker, he was faced with the challenge of reassessing what he wanted to achieve in both work and life. A recreational snowboarder before losing his sight, Shaun discovered the highs of Para-alpine skiing and became a member of the Australian Paralympic team for four years.
Ready for a career change, Shaun selected atWork Australia as his Disability Employment Services (DES) provider. atWork Australia were so impressed with his story and motivation, they offered him a job as a DES Ambassador. In this role, Shaun travels Australia sharing the benefits of disability employment with job seekers, employers, community organisations and the like. Shaun's work helps educate and inspire people about Disability Employment Services, having experienced himself, firsthand, how DES can change people's lives.
Shaun's tour of Victoria involved four days of sharing his story with various local job seekers, local community organisations, and local employers looking to access the full talent pool. Shaun connected with the local communities, spreading the word of Disability Employment Services and how it can help people living with disability, mental health condition, illness or injury find good, lasting work, just like Shaun has. We thank all who attended or supported Shaun's speaker series across Victoria.
Getting across Victoria with little time and without a car (Shaun cannot drive due to his vision impairment) can prove difficult, and with meetings in the Mornington Peninsula and Mooroopna scheduled for the same day, local pilot Peter Moran came to the rescue. Peter flew Shaun from Tyabb Airport, on the Peninsula, to Shepparton Airport, delivering Shaun in perfect time for his Mooroopna presentation. Peter is a local pilot from Peninsula Aero Club in Tyabb and a volunteer pilot with Angel Flight, meaning that he takes patients from country towns to hospitals all across the country as part of his volunteer work with Angel Flight. Angel Flight is a charity which coordinates non-emergency flights to assist country people to access specialist medical treatment that would otherwise be unavailable to them because of vast distance and high travel costs. Peter has completed around 160 Angel Flights, and without him, many people living in the country would not have had the opportunity to access the medical care they deserve. You can read more about Angel Flights here.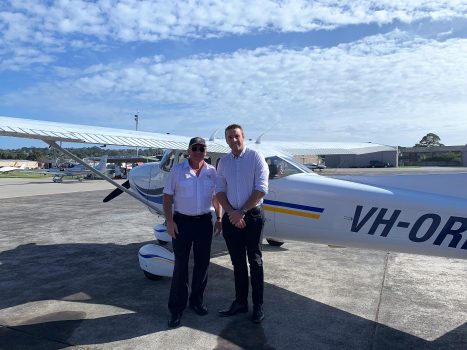 On the day of Shaun's flight, Peter experienced very sad personal news, however he did not cancel Shaun's flight. He insisted on continuing to fly Shaun to and from Shepparton Airport. As our atWork Australia Regional Manager Terry said, "He is the man with the biggest heart."
Disability Employment Services are here to help Australians living with disability, illness or injury find good, lasting employment, employment that can change their lives. To find out more about atWork Australia's Disability Employment Services or to hear when Shaun Pianta may next be visiting your local community for the chance to hear his story, please call us on 1300 080 856 today.