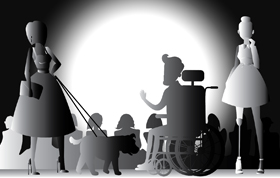 Our atWork Australia Melbourne team are proud sponsors of Access to Fashion this Saturday 1st September, an event that showcases disability on the runway, endeavouring to solve the pervasive issue of disability exclusion in the fashion industry. 
atWork Australia have sponsored seven hair and makeup artists to work at the event at the Library at the Dock. The team will be working behind the scenes, preparing the models for their time on the runway. You can read more about our sponsorship of Access to Fashion here.
The event, which will be comprised of a panel discussion and runway show featuring models with disability, will emphasise the need for accessibility and authentic representation, and highlight change makers and activists within the community.
Access to Fashion is one of Carly Findlay's projects – as a writer and disability advocate, we thank Carly and the team for involving atWork Australia in such a fantastic event. Bring on the fashion show!
Please note the event is sold out, however you can still join in by live streaming the event tomorrow between 3pm and 5pm. Click here to join the fun.
#AccessToFashion #disabilityjobs #disabilityemployment #des #youatwork