PERTH – atWork Australia's jobactive Employment Servicing team recently held the atWork Network event as part of a networking series for Perth local employers on 01 November at Steve's Bistro in Nedlands.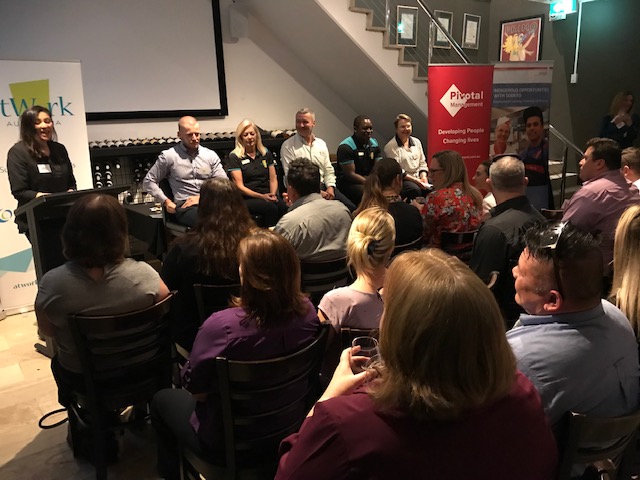 Business Development Advisor of atWork Australia, Natalie Francke, said the atWork Network is a wonderful opportunity for businesses from the local region to attend an informal get together and build on existing relationships and connect to create new ones.
The successful event was attended by more than 50 representatives from small and large businesses, owners, managers and HR professionals, across a diverse range of industries.
The atWork Network featured the addition of an informative Employer Insight Q&A session, including a panel of guest speakers from three key employers – Paul Brownrigg, Business Manager from Latitude; Nicola Larg, Indigenous Employment and Programs Specialist from Sodexo and Wes Goowin, WA Client Manager from Pivotal Management.
The interactive 'Employer Insight' session highlighted the successes of these businesses and demonstrated the importance of having a strong employer partner with atWork Australia who ensure businesses are connected with the right people at the right time.
"atWork Australia will continue to facilitate events such as the atWork Network to not only allow our employers to network and create opportunities for new business, but it allows up to keep our employers up to date with current employment market trends with the jobactive environment," Ms Francke said.
The atWork Network is part of a networking series that atWork Australia are dedicated to hosting throughout the year. atWork Australia is committed to providing excellent employment support services, making a real difference to people's lives and helping employers to find truly great people for their business.
To find out how atWork Australia can support your business, directly call our jobactive Employer Servicing team on 08 6355 6955 or enquire online here to find out more.