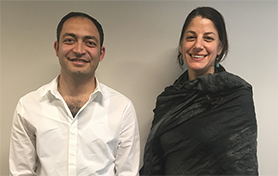 atWork Australia who recently won an Australian Government grant to participate in the DSS Career Pathway Pilot (CPP) program is helping transform the lives of refugees newly arrived in Australia.
The team, led by Career Pathways Coordinator Jacqui Luff (pictured) support refugees and migrants who have professional or trade skills, good English language skills and are ready to work.
Recently, WA Business News recognised this new targeted service and atWork Australia was featured in their October issue.
One of the first people to register for the Career Pathways Pilot for Refugees with atWork Australia in Perth is Magd Nana (pictured). Magd is a 32-year-old civil engineer from Syria and has worked on several multinational projects in Syria, Jordan and the United Arab Emirates. He is currently looking at securing engineering or drafting work in Perth.
Since his arrival in Australia approximately 14 months ago, Magd has faced many challenges to obtaining employment in his area of expertise, with the primary obstacle being his lack of 'Australian work experience'. During this time Magd undertook a Diploma in Project Management, contacted numerous companies regarding work and work experience opportunities and applied for many jobs.
Since registering with the CPP program provided by atWork Australia, Magd has commenced a work experience placement with a large engineering firm – his first opportunity to apply his skills and knowledge in Australia.
Magd has received very positive feedback from the engineering firm in respect to his work performance. Equally, Magd has expressed that he is really enjoying his placement and appreciates working with great people who are also very professional.
With atWork Australia's support and guidance, Magd's future career opportunities are now looking bright, with the hope of securing a job in his profession.
To find out the eligibility criteria and further information on the CPP program, please visit www.atworkaustralia.com.au and for any enquiries please contact: 1300 080 856 or email: careerpathways@atworkaustralia.com.au