When atWork Australia recently celebrated their 15,000th jobactive placement, the lucky recipient was William, a 33-year-old Boilermaker from Kenwick. William had been unemployed for three years when he was referred to atWork Australia Cannington under the case management of jobactive Employment Consultant, Nicole Twomey.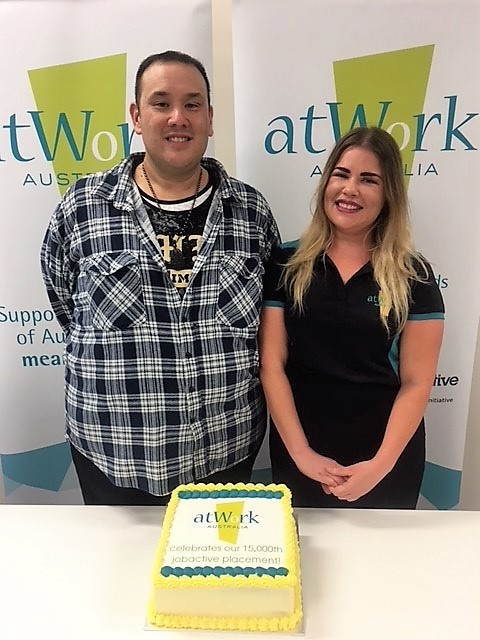 In addition to his sustained unemployment, William had a history of substance abuse and secondary depression as a result of this. He also had gained a significant amount of weight and was lacking confidence and motivation due to not working, and he was spiralling downwards.
William was keen to return to work as a FIFO Boilermaker, although he was nervous about passing the Drug and Alcohol Assessment (D&A) required to be a FIFO employee. Nicole encouraged him to apply for FIFO positions and assisted him in the job seeking process as she believed that he would be able to pass the required assessment.
Nicole arranged for William to successfully undertake the relevant courses and undergo a police check. She also updated William's resume. William provided her in return with a passed D&A. She also provided financial assistance in form of vouchers for phone credit to assist with William's job-searching efforts, and PPE gear once employed.
Nicole and atWork Australia provided continued support, encouragement and faith in William throughout his journey in finding employment, and he kept her up to date on his progress. He was offered and accepted employment with Techforce as a Boilermaker.
Since he was referred to atWork Australia, William's confidence has grown, and he has lost more than 30 kilograms. He is motivated to remain employed, healthy and clean, and is looking forward to the future.
Nicole said that "upon initially meeting William I could see how much he wanted to get his life together and getting back into employment was his main focus in doing so. Each time he would attend the office there was always an improvement and would inform me of where he was at and what he was doing in regard to obtaining his employment goal.
William has constantly thanked me for believing in him throughout his journey and advised that he had previous dealings with others who had not shown him the same support and encouragement that he needed".
"l want to be able to share with others, if I can do it, they can to. I had a goal and focus and with Nicole's help I have turned my life around. Having the support and someone believe in you makes the world of difference. I am really excited for the future," said William.
Congratulations William on your success, as well as being the 15,000th jobactive placement by atWork Australia.
We've helped William to change his life by finding meaningful work, and we would love to help you too. Call us on 1300 080 856 or enquire online today.