Congratulations to Bureau Veritas, Cabin Services Australia, Sodexo, Latitude, Bentley Fresh and Kelly Services
18/5/18
PERTH – The winners of the annual atWork Australia 2018 Employer Awards were announced yesterday at the magnificent Acqua Viva on the Swan.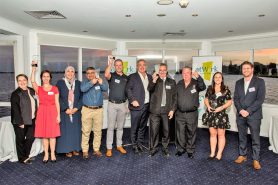 The event was attended by more than 100 employer representatives from a broad range of industry sectors. atWork Australia annually host this event as an opportunity to thank valued employers who are committed to making a difference to the lives of Australians via long-term, sustainable employment.
atWork Australia's General Manager Michael Kolomyjec said part of the success of the atWork Australia employment services is that it works closely with employers to focus on their needs.
"Over the past 12 months we have placed more than 7,000 jobseekers into work. That's more than 7,000 Australians who may otherwise still be unemployed.
"Finding the right fit between employer and jobseeker is critical to achieving long-term success in employment; it is not just about filling a position, it is about finding the right fit, each and every time," he said.
Work Health Group's CEO David Sagar said at the heart of what we do is the belief that employment transforms live, not only the lives of individuals, but also the lives of their family and friends and the communities they live in. This belief governs all that we do, and how we do it.
"We recognise that some of our jobseekers come from a diverse range of backgrounds and through the opportunity of work, many gain confidence and skills, with thousands of individuals turning their lives around and become highly productive, reliable employees," said Mr Sagar.
David Sagar presented the awards in the following categories which recognise the employers' commitment and dedication to helping Australians find employment. Giving jobseekers an opportunity to develop and forge their own career path and ultimately change their lives for the better.
2018 CHAMPION EMPLOYER OF THE YEAR AWARD
Awarded to Bureau Veritas, this category recognises excellence and high achievement from an employer who has exceeded outcomes across the various categories and achieved a high number of successful placements over the year. Since late 2016, Bureau Veritas and atWork Australia's partnership has gone from strength to strength, supporting 38 jobseekers to secure meaningful placements as Sample Preparation Assistants in the last 12 months as well as providing them with wonderful opportunities to work for a global organisation.
2018 RISING STAR EMPLOYER OF THE YEAR AWARD
Awarded to Cabin Services Australia, this category recognises a newly established employer relationship. In 2017, atWork Australia partnered with Cabin Services Australia with the opportunity to assist them with securing many of their cleaning and driving positions at the Perth Airport. Through their innovative screening process and recruitment drives, atWork Australia were able to offer 19 placements for jobseekers.
2018 INDIGENOUS EMPLOYER OF THE YEAR AWARD
Awarded to Sodexo, this category recognises an employer who is committed to providing employment opportunities for Indigenous Australians. atWork Australia has a long and established working relationship with Sodexo with many successful placement outcomes for Indigenous jobseekers as Remote Service Attendants. Sodexo have demonstrated a superior commitment when it comes to closing the gap for Indigenous jobseekers and putting their words into action.
2018 DIVERSITY EMPLOYER OF THE YEAR AWARD
Awarded to Bentley Fresh, this award recognises an employer who has demonstrated their commitment to promoting diversity in the workplace and supporting jobseekers from all backgrounds and cultures to build better lives through meaningful work. atWork Australia have recently partnered with Bentley Fresh, resulting in 10 successful placements for our Disability Employment Services clients over the last 6 months. Bentley Fresh is supportive with providing employment opportunities for our DES clients by tailoring jobs that suit their individual circumstances.
2018 YOUTH EMPLOYER OF THE YEAR AWARD
Awarded to Latitude, this award recognises an employer who has committed to providing employment opportunities for Youth jobseekers. Latitude approached atWork Australia at the start of 2018 with the brief to assist with employing 'Youth' aged between 18 and 24 years for the newly opened local indoor aerial super park in Edgewater, WA. A role specific pre-employment training program was conducted which resulted in 16 young jobseekers securing meaningful employment at Latitude.
2018 LOYALTY EMPLOYER OF THE YEAR AWARD
Awarded to Kelly Services, this category recognises a long history working together with atWork Australia to help find employment opportunities for Australians. Since 2013, atWork Australia have established a close working relationship with Kelly Services which has resulted in 40 atWork jobseekers successfully securing sustainable employment across a variety of industries in the last 3 years alone.
Congratulations and well done to our very worthy 2018 atWork Australia employer award winners.