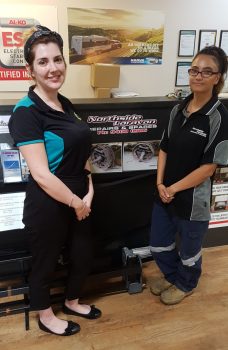 For nearly six years Samantha could not seem to catch a break, but now her luck has changed with the perfect hands-on job and a bright career ahead.
By the time she was referred to atWork Australia's Mirrabooka jobactive office in mid-2017, Samantha had unsuccessfully applied for countless positions. The constant rejections had left her feeling depressed, with little hope for the future.
Her jobactive Employment Consultant, Amy, knew that Samantha was going through a rough time and was up against some hefty barriers to employment. She lacked education and work history, her accommodation was shaky, she'd suffered trauma and family breakdown, and had a limited support network.
Despite all these barriers, Amy felt that with the right coaching Samantha would be an asset to any company.
"She has a young, bubbly attitude and isn't afraid to get her hands dirty," she said.
After discussing Samantha's work ambitions, it became clear that Amy would excel in a career that was practical and hands-on. However, before she applied for anything she needed to spend time gaining employability skills.
atWork Australia referred her to a youth training program designed to help young people understand what employers expect in the workplace and supports them to get job-ready. They're then referred to a suitable business for a trial run, to see if they are the right fit before they hire.
While Samantha completed the course, she worked with an atWork Australia psychologist for guidance on her personal and career development. She successfully completed her training, exiting the program with valuable skills such as problem solving, teamwork and office technology.
With Amy's support, Samantha then started a paid workplace trial at a car detailing business in November 2019. The business was offered a wage subsidy of $10,000 – an important financial incentive and key component of the program.
According to Amy, her Job Seeker is now thriving in the new role and will continue to receive support from atWork Australia to ensure she keeps the job.
"She absolutely loves where she is so we'll keep working with her to get up to a management position where we think she will shine!" Amy said.
"She's taken such a big step into the workforce, with a lot of challenges, but she's persevered and is now one of our strongest candidates."
Samantha is thrilled with the outcome and has praised the atWork team for their help and support.
"The word thank you isn't enough to say how much I appreciate everything that they have done for me. I am so very blessed to have such a strong support network behind me every step of the way. The Mirrabooka office has the most supportive and very helpful staff members," she said.